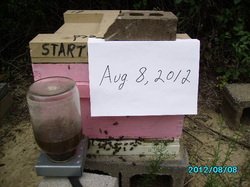 This inspection of our new hive shows the development after three weeks. We have been feeding our colony about two gallons of syrup each week.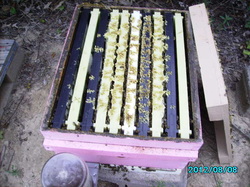 Notice the new wax that has been built on top of the frames. This kind of wax building is commonly called, "burr comb." This has been caused by the feeding of syrup. The outside conditions at this time are, "EXTREME DROUGHT" and there are few flowers available for the bees to work.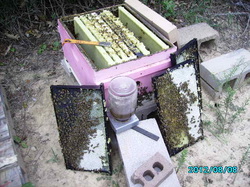 I have removed some of the newly drawn frames. Notice how the bees have "capped" some of the stored syrup on these frames. These bees have about
1 1/2 frames left to draw out into new combs. We need to still feed these bees regularly.