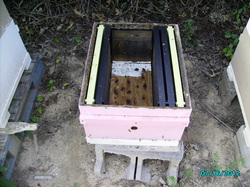 1. Place your beehive where it will be permanently located and remove the center five frames.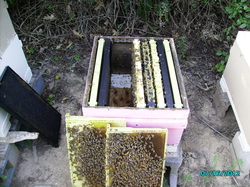 2. Gently remove the frames from the cardboard nuc box and place into your new hive.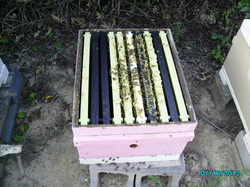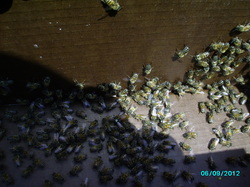 3. SPECIAL NOTE: Be sure to check inside the empty nuc box for the queen. We mark all our queens and this queen has a white mark on her back. The queen is in the middle of the box.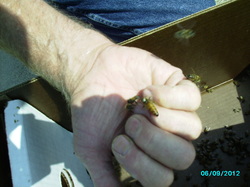 4. If you find the queen inside the nuc box, let her run up onto your hand and place her onto the top of the frames. If you are not that brave, place the nuc box on top of the frames in the upside down position. The queen will eventually run down onto the frames after a few minutes.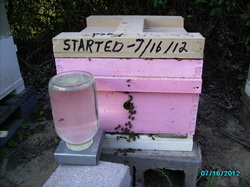 5. Put the top on the hive and install a feeder. The feeder in this picture is a boardman feeder. FEED YOUR BEES UNTIL ALL THE FRAMES ARE DRAWN COMB AND FILLED WITH BEES, BROOD, AND HONEY!!!!