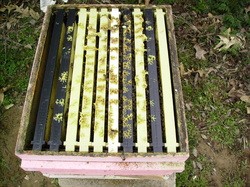 This is our overwintered nuc/hive on a cold day, Mar. 1, 2013. We have been feeding this hive to stimulate brood rearing. Bees expand very quickly in the spring and we will "super" our hive and try to stay ahead of it.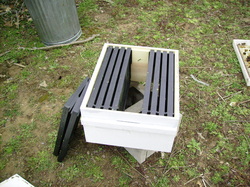 Prepare the new super by removing the two center frames and replacing them with two drawn combs from the beehive.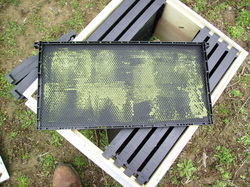 I use a 4" foam roller to apply extra beeswax to a new plastic frame. The wax is melted in a crock pot. Applying extra wax will help the bees greatly in drawing out the new comb. A special thanks to fellow Missouri beekeeper, Grant Gillard, for this great idea!!!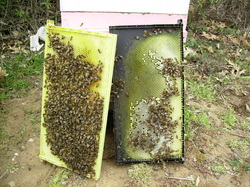 These two combs were removed from our original beehive and were the two outside position combs (They will be replaced with the two foundation frames removed from the new super). These two combs will be used as "bait" combs in the new super. This will help draw the bees into the super.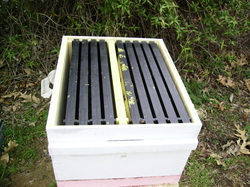 Finished!!! Don't forget to feed the bees so that they draw out the new combs. Our next super will be the first "honey" super and we will discontinue feeding the bees at that time. Meanwhile, a weekly inspection is needed during the swarming season. The queen is young, but when the bees have to draw out new combs they become congested and will want to swarm. During the inspections, check for swarm cells and remove them weekly. If the hive swarms, it will be difficult for it to produce extra honey this season.