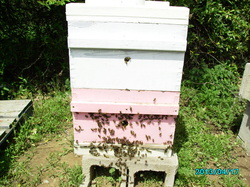 It is the middle of April and we can see the bees using the upper entrance to our new supper. The activity seen at the hive entrance has not been the norm for this April. This month has been much more like March in that the weather has been cold and wet.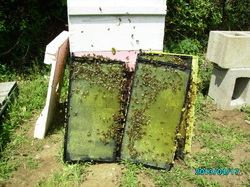 I have removed some of our new plastic frames to show how the bees are drawing out the new comb. Remember, I am still feeding the bees regularly to help them with the comb building. There is plenty of flowers blooming in the fields but with the cold weather, the bees are staying home because it is too cold for them to fly.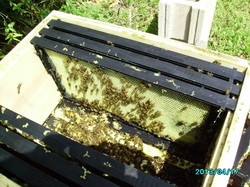 Over half of the plastic frames have new comb being built. Considering the spring that we are having, the bees are doing well. I inspect the brood nest weekly for swarm cells (queen cells) and remove any that I see. This is very important because the bees must be forced into the new super to draw out the plastic foundation. They are forced when there are too many bees on the existing combs below. This causes bees to swarm. Feeding the bees constantly along with periods of wet weather, also causes the bees to swarm.