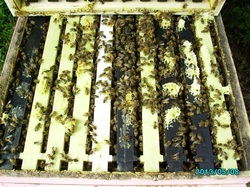 In the previous Blog Posting (Part 9), I said that the beekeeper needed to check their bees weekly for signs of swarming (queen cell building). Normally, when I am checking a hive for swarm cells I split open the two boxes containing the brood nest and look down at the bottom box first. As seen in this picture, the hive is looking very healthy with lots of bees.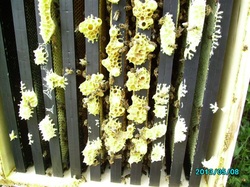 Next, look at the bottom bars and between the frames of the new second brood chamber. Notice the lack of bees and the queen cells started on the bottom bars. This does not look like I want it to be and it appears that our hive has swarmed!! Also, due to poor weather this spring, I was unable to perform the weekly hive inspections. Swarming happens very quickly in the spring and all it takes is missing a weekly inspection. I will take some frames out of this box in an attempt to determine the status of this hive.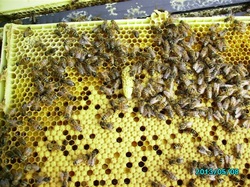 Quickly, I find a builtiful, sealed queen cell and that tells me that this hive has swarmed. It just so happens that I caught a nice swarm near this hive about a day ago and hived it in my new Top Bar Hive. I did cut out all the swarm cells but this one and left it for the season.