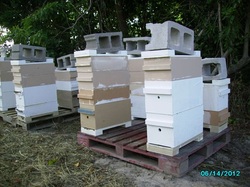 This is what our typical "Nuc Yard" would look like. All nucs are produced in 5-Frame equipment in different depth boxes because we sell nucs in all sizes of frames. Each "Nuc Hive" is started during the spring with 2-3 Frames of brood and a queen cell in a single box. As the nuc grows, boxes of foundation are added during the season. A cinder block is placed on top for added stability.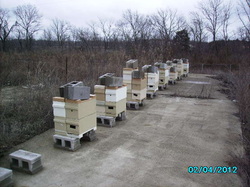 This is what a nuc yard will look like during the winter with a nuc being overwintered in two deep nuc boxes each.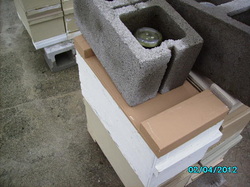 We start feeding the nucs during February and March to stimulate brood production. We feed the nucs through the top cover, just above the winter cluster. Notice the quart jar inverted inside the cinder block.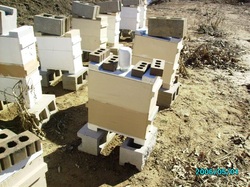 Notice the feeder jar on a top cover that has a hole cut in it for feeding. This is the best way to feed your beehive-----just above the cluster so that the bees have access to the syrup no matter what the temperature is.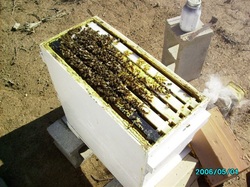 This what we see in February and it will be ready for selling by March and April.