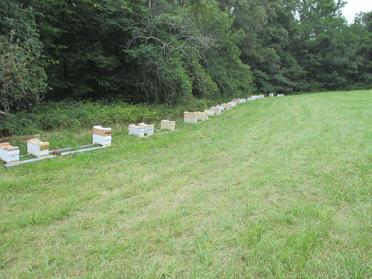 We begin making nucs in March and end the season in late August and early September. These nucs were made from hives coming off of a soybean honey flow. It is late August.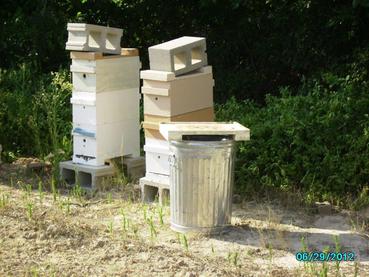 Our nucs were made from three (3) story nucs that were started earlier in the spring. In other words, we make nucs from nucs (the cinder blocks keep the tall nucs from blowing over).
We remove the top super (box) and place it on top of a garbage can so that we are not bending over too much while handling a five (5) nuc box full of honey.
We then remove the second (middle) box, which is full of brood and honey, and place it on a bottom board that is on top of a second garbage can. No frames are removed from the box. We can look down between the frames and see the sealed brood which indicates a queen. The new nuc is then moved to a yard as pictured in the above image.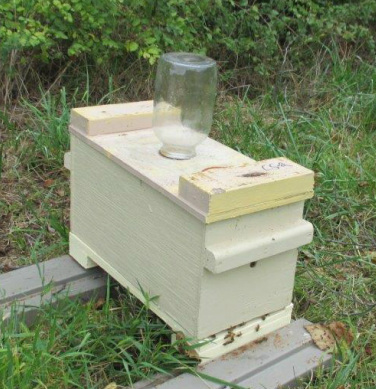 Most of the nucs do not need feeding, but if they are light we will use a through-the-lid jar feeder. This type of feeder works very well at anytime of the year by putting the feed in close contact with the bees.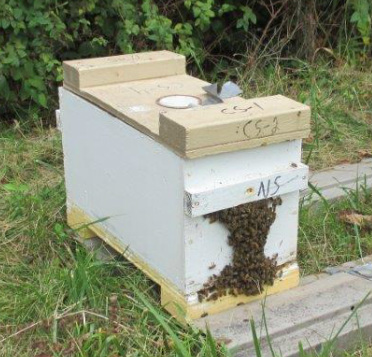 Sometimes we make the nucs too strong and a "bee beard" will form on the front of the hive.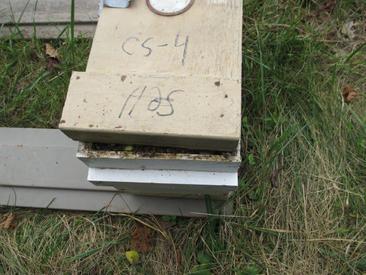 When this happens, we move the lid forward to create a crack that will help the bees control the inside temperature. This will keep the nuc from overheating.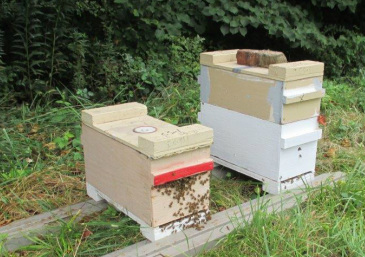 The nuc on the right has a super added to relieve congestion inside the hive. Previously, this nuc looked like the nuc on the left (which needs a super, too).