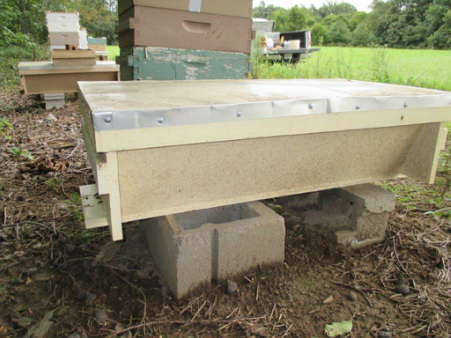 Inspect your TBH weekly until you feel comfortable with understanding what your bees are doing during the season.
You cannot learn about what YOUR bees are doing unless you open your hive and inspect it.
Do your inspections on a warm (70 Degrees or more), sunny day when the bees are actively flying. If the bees are not flying----leave them alone
Remove the cover and inner cover (if equipped) after smoking the bees lightly at their entrance.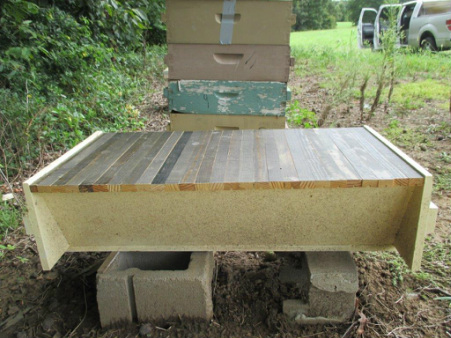 The top bar frames (these are "black") are now exposed and now it is time to remove the first frame---this is the most difficult frame to remove in any hive.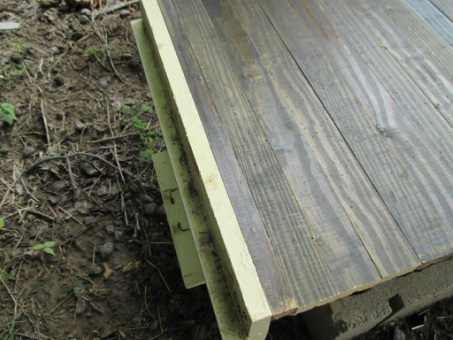 Notice how the frames are held tightly together. They are called, "Bee Tight."
Begin removing a frame from the end and NOT THE CENTER.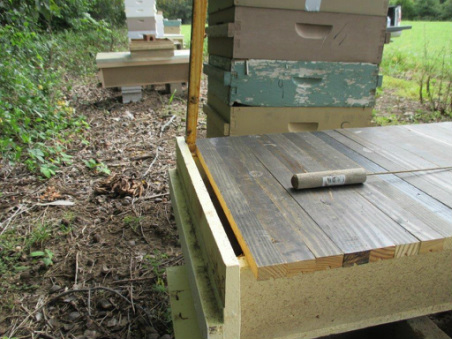 I use a "spacer frame" on the end that measures 3/4" X 3/4." This picture shows it flipped upward. By removing it (use your smoker), an empty space is created and this will make removing the first frame easier.
NOTE: Your TBH will probably not have this feature. If you build your own top bar frames and hives, consider using this "spacer frame."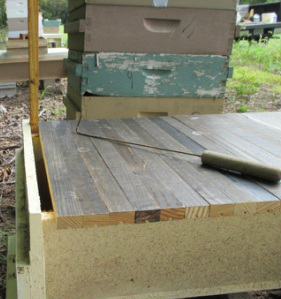 Resting on top of the frames is a, "Top Bar Frame Hive Tool." I learned about this tool from Wyatt Magnum, a well known TBH Beekeeper and writer. It consists of a wooden dowel rod handle that has been bored with a 1/8" hole on one end, and has a 7018 welding rod (minus the flux)
inserted into the hole. The end of the welding rod that is opposite the handle, has been bent 90 degrees to form a "foot" that is 1 1/4" long. The foot is hammered to form two sides and each side is sharpened lightly.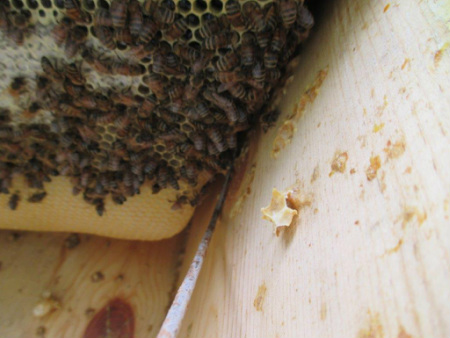 This tool works by sliding it down the sides of the hive to cut free any comb attachments before removing any top bar frames.
If you do not remove the comb attachments to the sides of the box, you can easily ruin the comb by tearing it apart.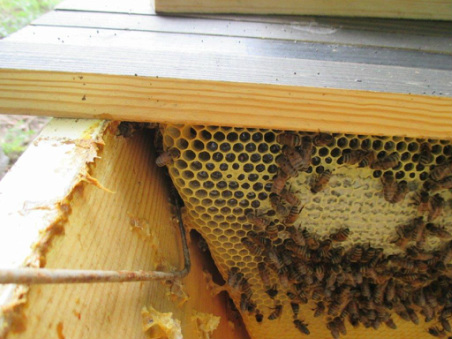 This pictures shows the use of the tool, but was staged for easier viewing. In actual use, you would not necessarily see the tool in full view while using it.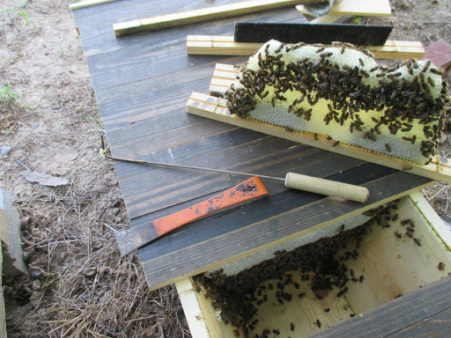 You will still need a "regular" hive tool to pry your frames apart.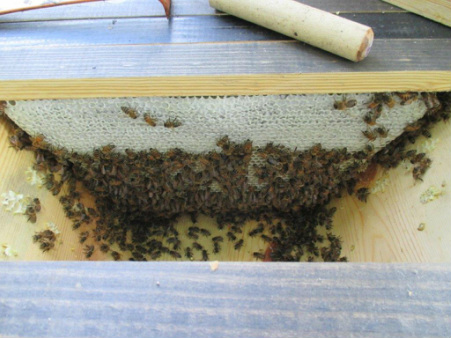 During your inspection, look for frames of honey like this.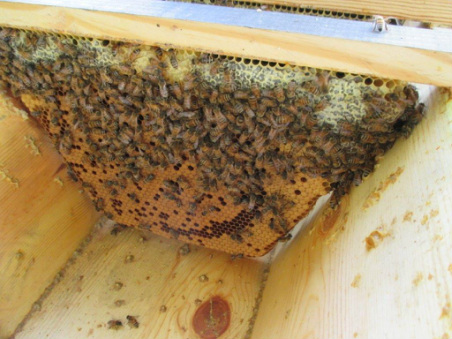 Also, you should see brood frames which shows the recent work of a queen. It is not necessary to actually see a queen to know that she is in the hive and working.
ENJOY YOUR BEES!!!!!