"Bigger" Bee Hives
(NOT like our model, "The Bee Tree")

Many of my customers will ask me about how I control the varroa mites. Normally, that conversation begins with me saying the following:
1. Big Hives = Big Bee Populations
2. Big Bee Populations = Lots of Brood
3. Lots of Brood = Lots of Mites
4. Lots of Mites = Lots of Bee Virus (the mites carry and transmit deadly bee viruses)
5. Lots of Bee Virus = Lots of Bee Death (resulting in total hive death)

Most beekeepers, new or experienced, are told that they should strive for the highest possible bee population in their hives. The reasoning is that more bees equal more honey and after all, what beekeeper doesn't want more honey from their bees? Often, a beekeeper's success is measured in the amount of honey harvested from each hive.
The attached picture shows what many beekeepers like to see in their bee yards---tall bee hives with several boxes of honey on each hive. Each hive consists of several deep "brood" boxes on the bottom and shallow supers stacked on top. The average volume for each hive would be at least 45 – 50 gallons. Queen excluders are not used and the queen has unlimited access to drawn combs for laying of eggs. Swarming is controlled by giving the queen empty drawn comb and the "reversing" of the brood boxes. These hives should be considered big hives with big bee populations due to lots of brood. In this situation, bigger does appear to be better. Or does it?
But you are probably a new beekeeper and not interested in producing gallons and gallons of honey per hive. After all, you are a "hobby beekeeper" and you know that beekeeping can be very expensive in just buying all the equipment you are told to buy. Furthermore, you may not be physically able to lift boxes full of honey off of a hive that you can't even see over the top of. Also, a "hobby" should not become a "job" unless that is your goal. For you, bigger may not be better.
What about the bees? Do they think that bigger is better? Fortunately, Dr. Tom Seeley has written much about this subject in numerous research papers and in his book, "Honeybee Democracy." He has found that in the wild, bees will search out trees with a cavity measuring about 10 ½ gallons in volume. That is the approximate size of one deep brood box which is adequate for the necessary honey storage to survive a winter. This is why we are using the "bee tree" for our model because the wild bees are surviving quite well without us in a much smaller home. Remember, varroa mites kill bee hives due to the viruses they transmit and by shorting the number of days that a honeybee lives. The wild bees living inside the trees do have mites yet many still survive. I will attempt to explain this mystery in my next blog. Until then, I have attached another picture that shows a much different hive configuration for the production of a few gallons of honey each year and also helps to control mites.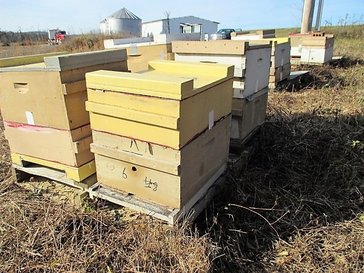 "Smaller" Bee Hives
(like our model, "The Bee Tree")