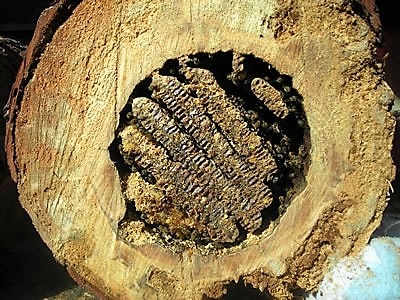 ​This is a typical small broodnest of a wild honeybee colony located in a hollow tree.
​ In the last blog installment, I attempted to present the case that "Bigger is NOT Better" for everyone. I will continue my argument from the standpoint that a "smaller hive" means a "smaller broodnest" and this should result in fewer varroa mites. This is true because the mites reproduce in the comb cells, along with the worker and drone brood, raised in the hive's nursery. Therefore, less bee brood should result in fewer varroa mites.
In his book, "Honeybee Democracy," Dr. Tom Seeley's research on wild honey bee colonies has provided us with many important facts concerning the wild bee's selection for a home:
On average, they will occupy a tree cavity that is 8 inches in diameter and 60 inches tall.
The bees will construct eight or more combs with an average of 100,000 cells for brood and honey storage space.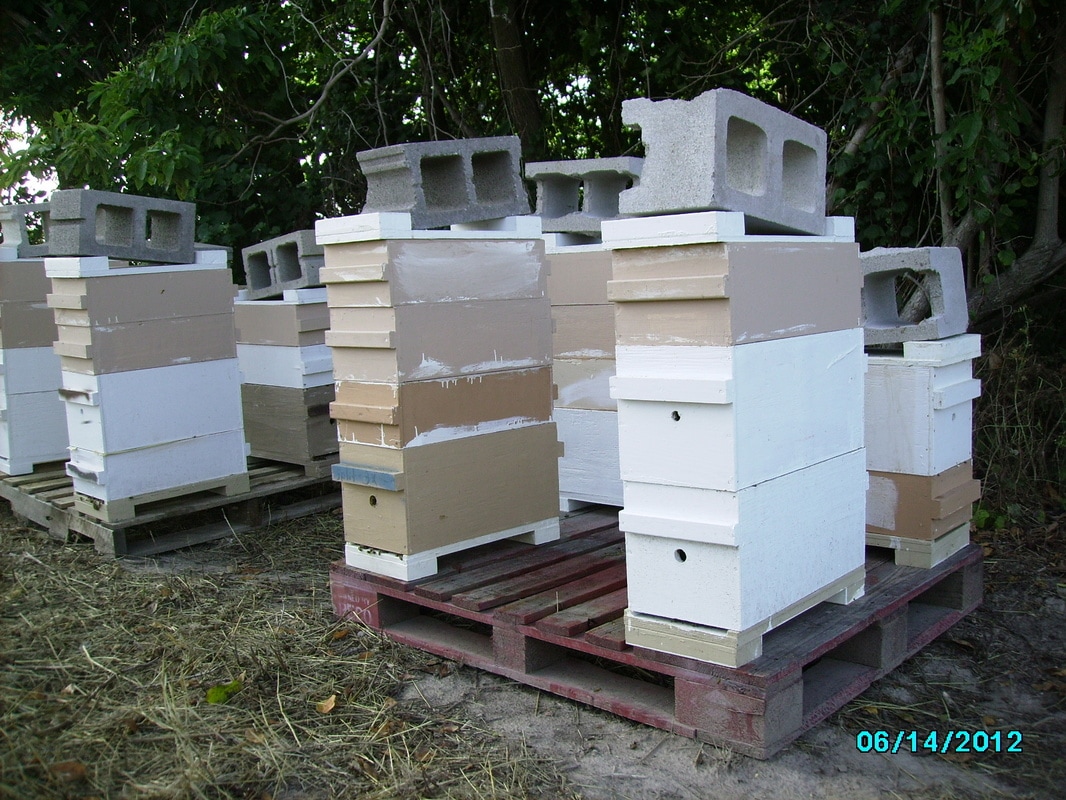 The above picture shows one of my typical bee yards and these hives are used for the production of "nucs." All hives are five frame equipment and the ideal box arrangement is three boxes, or the equivalent thereof. I keep hundreds of these hives and they overwinter very well (less than 3% winter loss) and rarely ever get treated with chemical mite control. When I say "chemical," I am referring to all chemicals hard, soft, and natural.
These nucs measure nine inches in width and approximately 25 – 30 inches tall (The cinder blocks on top provide stability during high wind events). Also, our nuc hives will average near the 100,000 comb cells found in the wild honeybee colonies. Typically, the broodnest will be located in the bottom two boxes and the third box will be full of honey. The third box could be harvested for honey, but we normally do not because we are producing bees in these hives. After removing a five frame nuc of brood, queen, and bees in the early spring, we install frames of foundation to replace what we removed and these will usually be in the second or third box. This system of management will result in a smaller broodnest.
Pure and simple, a smaller broodnest means fewer mites, but it will also result in more swarming due to the broodnest restriction. Most beekeepers, new and old time, view swarming as an undesirable event and they are told that a hive that swarms will not produce any crop of honey for that year. This is false because on drawn combs, studies have shown a 50% reduction in the honey crop on average.



​l​ maintain that allowing your bees to swarm is a major tool in controlling the varroa mites. When a hive swarms, a major amount of the mites leave with it. Also, the remaining hive is queenless and not raising brood (or more mites) for upwards of three weeks. During this transitional period, many of the mites do not survive. And remember, we get a new queen for our remaining hive, which is always good. All of these things happen on an annual basis to the wild honeybee colony and they survive.
So, does the beekeeper's beehives survive when they practice the type of management just described, i.e., a small broodnest/hive and allowing their bees to swarm naturally? YES!!! The same results can be accomplished by removing 50% of the bees and a couple frames of brood with the queen early in the spring. The remaining hive is given a laying queen or queen cell. Normally, neither hive will require any more mite control for the remaining season. When done early (April), the remaining hive can still produce a couple of extra gallons of honey for your needs if you have drawn combs for your bees.
Maintaining a smaller broodnest/hive will go easier on your body when working and harvesting honey. Needless to say, your equipment costs will be less, no drug cost, and fewer hours of labor to care for your bees. By the way, five frame boxes are available from all major bee supply companies and I have noticed that they are expanding these equipment lines yearly.
It is my contention that most beekeepers do not know when their bees swarm and this could be a good thing. It also may explain the statement from the beekeeper, "I don't do anything to my bees and they survive." They see no need for varroa mite controls even though they are actually using a very major mite control method in allowing their bees to swarm.
I know that it is very difficult for many of you to accept this style of management and because of that, you will remain on a "chemical treadmill." I still maintain one bee yard using chemical controls and monster beehives just as a reminder---